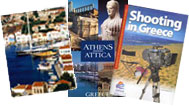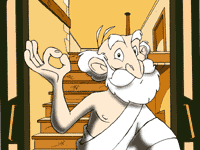 KASTRO KYLLINI GRECOTEL MANDOLA ROSA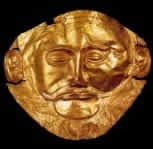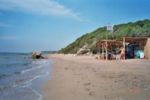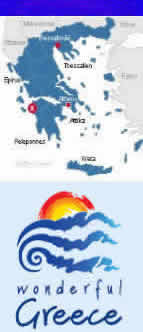 Gallery

GRECOTEL MANDOLA ROSA

A TOUCH OF CLASS

Mandola Rosa's 33 one-bedroom suites and two-bedroom villas are the ultimate in graceful living. Designed for supreme comfort, suites are individually furnished in an updated version of Belle Epoque elegance
.
High ceilings and terraces with arched porticoes recall the grandeur of 18th-century Europe. Antiques, original art, raw silk upholstery, and hand-crafted furniture enhance the feeling of being at home. Enveloped in greenery, each of Mandola Rosa's splendid villas is an oasis of privacy. These ultra-spacious exclusive hideaways are perfect for couples and families seeking to spend quality time together in an elegantly appointed residence while enjoying the services and amenities of a five-star-plus resort.

All guestrooms feature:

* Balcony/garden
* Bath/WC
* Hairdryer
* Telephone
* Satellite TV
* Music/Radio/CD
* Player
* Air conditioning/Heating
* Mini bar with charge
* Safe


DISCRETE, PROFESSIONAL SERVICE AROUND THE CLOCK

Nothing at the resort has been left to chance, from the stately palms and fragrant jasmine framing the main swimming pool to the cool bed linens made from the finest cotton. The service is as refined, with the same attention to detail and complete respect for privacy.

THE HOTEL FEATURES:

* Guest Relations & Privilege Club services
* Reception/Concierge services include: Messages,Car Rental/Excursions.
* Medical Care (on call 24-hours)
* Room service - 24hrs in-room dining
* Business services - Internet Corner
* Postal Services - Express Courier Service
* Dry cleaning-laundry
* Charisma Jewellery, hairdresser

SUPERB CATERING & ATTENTIVE SERVICE
FOR PRIVATE FUNCTIONS

The spacious Grecotel Olympia Riviera conference rooms and exhibition areas adjoin the Grecotel Olympia Riviera.
The conference rooms can be fully equipped with all technical requirements. Special areas are available for displays and exhibitions. All conference rooms have natural light and offer spectacular views.
The hotel prides itself on its superb catering and attentive service for private functions. Ample car parking is available for the guests.

TECHNICAL FACILITIES

* Podium/lectern
* Overhead projectors
* Video projector
* Flip charts
* Video large screen
* Video TV/screen
* Slide projectors
* Microphones (normal & cordless)

Elixir Thalassotherapy Center
The Elixir Thalassotherapy Center has three wings. The central building is a rotunda, inspired by the temple Alexander the Great built at the sanctuary at Ancient Olympia nearby. A grand staircase sweeps up guests from the reception area into the spa's inner sanctum – a suite of thirty elegantly appointed private massage rooms, changing areas, showers, saunas, exercise rooms, steam rooms, and wonderful indoor and outdoor lounges where you can stretch out on loungers and sip herb teas or fresh-squeezed juices between treatments.
Spoil yourself completely with an open-air massage on the temple porch, discreetly screened by billowing curtains of transparent white voile. The tranquil flower gardens below are perfect for working through your yoga practice or some private meditation.
The spa's true showstopper is the Aqua Elixir thalasso pool. More splendid and luxurious than the grandest Roman thermae, it has fitted with wild-water corridor, cannons, bubble seats, nozzles, and shower jets for the full thalassotherapy experience.
The Elixir Thalassotherapy Center offers a full range of treatments, from affusion and kinesiotherapy to lymph drainage massages, Shiatsu, Reiki, Ratna Stone Therapy, Udara, Gamathi, Sirogriva, and aromatherapy massages either as individual treatments or as part of a full spa program or even a one intensive treatment.
But the ultimate treat is the spa's signature therapies: try the Olympia Riviera Massage or the Beauty Goddess for head-to-toe pampering.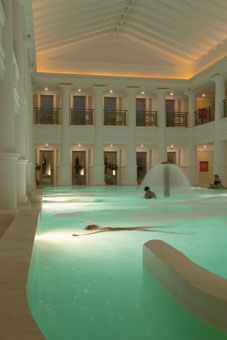 Contact details:
Kyllini 27050, Peloponnese, Greece.
Tel. +30 26230 64400
Fax. +30 26230 64455
Email: sales_or@grecotel.gr